ReconWithMe, an advanced vulnerability scanning and penetration testing tool, has been developed by a team of dedicated security researchers to enhance the security measures of IT security teams. This powerful tool swiftly identifies security vulnerabilities in websites, cloud platforms, and networks, enabling security teams to take prompt action. Additionally, ReconWithMe offers valuable features such as preliminary information gathering, scheduled tests, and effective vulnerability management.
In order to ensure utmost protection for user data, personal information, and the security of their valued customers, ReconWithMe has recently established a Bug Bounty Program in collaboration with Bugv. Bugv, the pioneering bug bounty and vulnerability coordination platform from Nepal, acts as a connecting bridge between businesses and skilled penetration testers and cybersecurity researchers. This platform operates on a crowd-sourced model, boasting a global network of security researchers who are eager to contribute to your journey towards a safer internet.
Through the Bug Bounty Program, ReconWithMe is generously offering bounties ranging from $10 to $100 per vulnerability discovered. This collaboration with Bugv reflects ReconWithMe's unwavering confidence in delivering a safer and more secure service to its esteemed clients.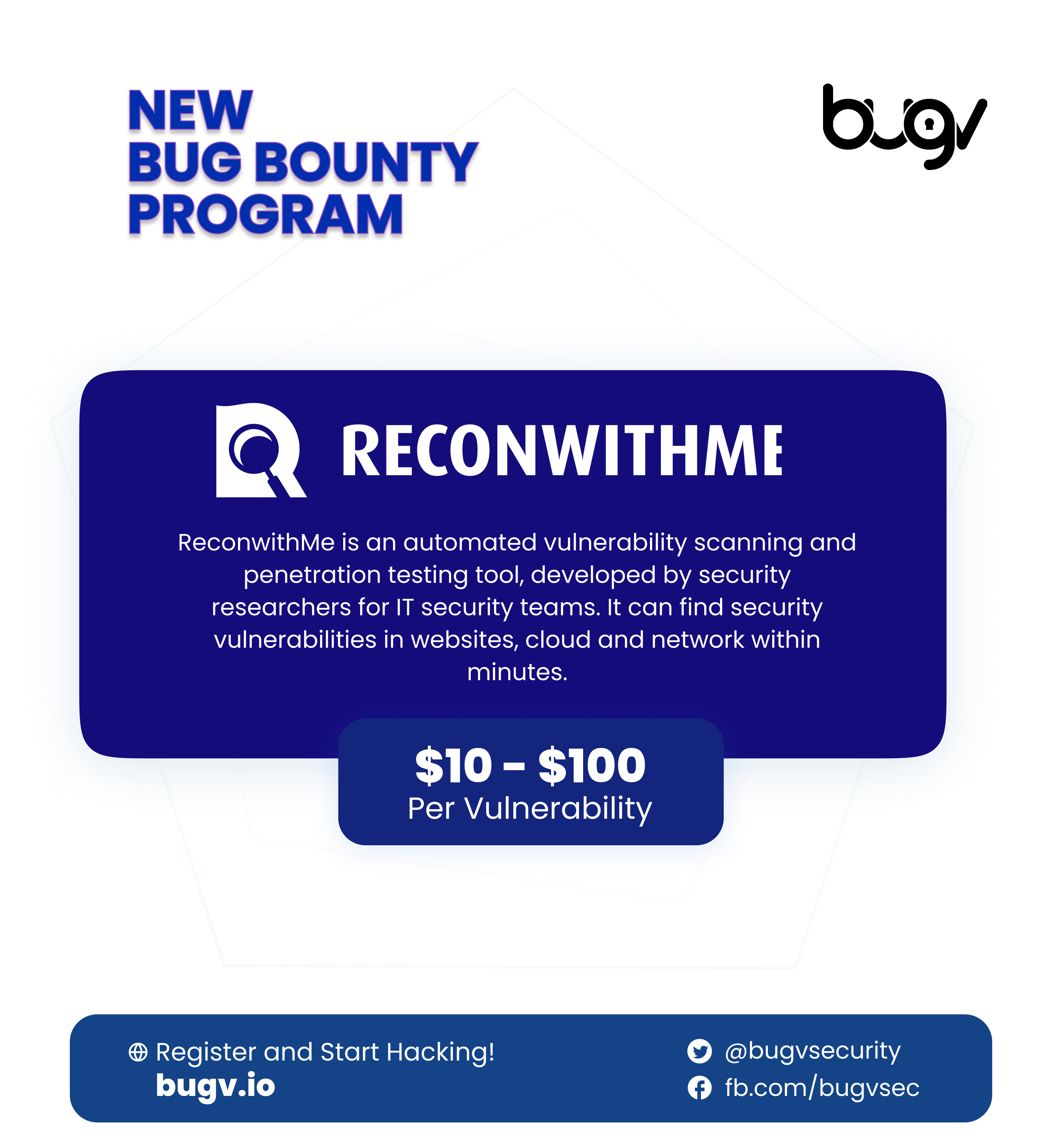 Bugv was established with a clear mission: to enhance the global security infrastructure. We are dedicated to achieving this goal by continuously expanding our platform with the inclusion of new companies and delivering exceptional services to our valued clients. Each day, we strive to come closer to realizing our vision of a safer and more secure digital landscape.
Register at Bugv at https://bugv.io/signup and get started!